One of the common things we see at the clinic is neck, back, hip, knee pain caused from poor posture.
The way an Osteopath assess standing posture in a patient is using a vertical line that runs through various structures of the body:
The ear lobe
Middle shoulder (GH joint)
Midway between the back and chest
Middle Hip joint (Greater trochanter of the femur)
Slightly anterior to Middle Knee
Slightly anterior to Middle ankle joint (lateral malleolus)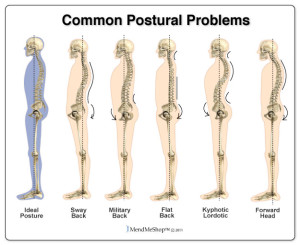 At the Backbone Osteopathic Practice, our Osteopaths use hands on techniques to mobilise joints and stretch out the muscles and give postural correction exercises and advice. Osteopaths help assist you in correcting your posture giving you a long-term solution for ongoing aches and pains that you have which are a result of poor posture.
At the backbone we are big believers of prevention being better then cure and we are passionate about giving our patients long term solutions to their aches and pains. We work with young children from as young as one-year-old assessing gait (how they walk) and ensuring teenagers are educated on how they should be standing. The earlier we can detect a problem and correct it, the less likelihood there is of that child reinforcing these bad habits and suffering from posture related pain in the future.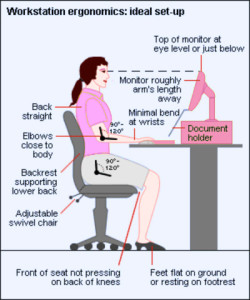 We also like to educate our patients on workstation posture. Whether its driving posture or desk posture. We ask our patients to email us a photo of them selves sitting at their desk and we advise accordingly. Most of the time, just looking at the picture will show you what it is you are doing wrong and can help explain why when sat at the desk, your shoulder, neck, back, knees hurt! Try it yourself!
To claim your FREE Workstation Advice Report, email your photo with your full name and a contact number to: info@thebackbone.co.uk.
We also offer a Workstation Package which includes an Osteopathy treatment and someone coming to your workplace OR home and assessing your workstation and advising you on changes you need to make. This assessment includes a workstation report.