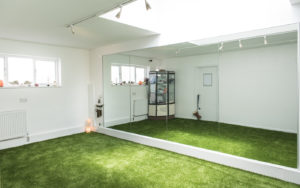 Our studio provides a unique indoor/outdoor space! Come and experience the benefits of a natural feeling grassy space that is sheltered from the cold, wind and rain. The grass flooring adds a natural feel whilst being gentle and soft on the feet and joints during mat based classes. The studio provides ample natural light with a sky light and windows further giving the illusion of being outdoors. There is a mirrored wall, making the space perfect for classes. The studio is based in our Muswell Hill branch.
Our studio is ideal for:
Yoga and Pilate Classes
Childrens Classes
Private training sessions
Fitness Classes
Workshops
Talks
Courses
Meetings
Events
Photo Shoots
Focus Groups
Q&A
What amenities do you have available for those who rent your space?
We have toilet facilities and a storage room. The studio is equipped with a basic sound systems, stools, pillows, blankets.
How many people can the studio hold?
For yoga, we can accommodate up to 5 standing or sitting we can accommodate many more. We also have a Therapies treatment room available at the practice.
What hours is the studio generally available for rent?
9am-9pm Mon-Sun.
What does it cost to rent the studio for events?
£20/hr for Studio
£10-16.50/hr for Therapy room
Anything else I should know?
A 50% deposit is required to secure rental and the balance is due the day of your event.
We rent studios only when space is available. We cannot cancel classes or workshops to accommodate rentals.
Any food or beverages brought in must be fully cleaned up when leaving.
No candles may be lit in the studios, but incense is permitted.
What is the studio rental cancellation policy? 
Notice given 48 hours (2 days) or more before the rental- a full refund.
Notice given less then 48 hours before the rental – refund of deposit minus a £10 administrative fee only.